Hosted by: Helga Henry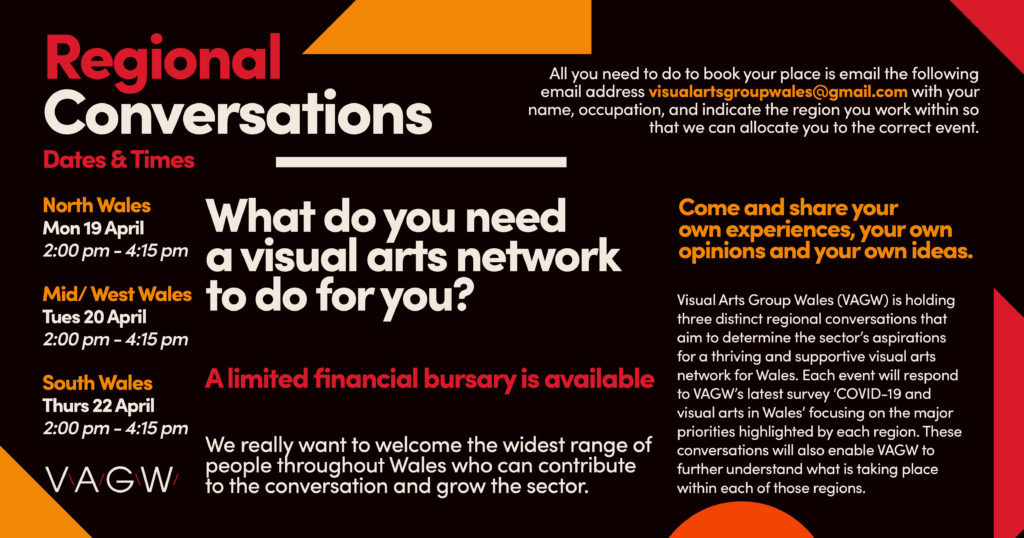 Dates & Times
North Wales Monday 19 April, 2:00 pm – 4:15 pm
Mid/ West Wales Tuesday 20 April, 2:00 pm – 4:15 pm
South Wales (including Swansea) Thursday 22 April, 2:00 pm – 4:15 pm
Event
Visual Arts Group Wales (VAGW) is holding 3 regional conversations that aim to help determine the sector's aspirations of a visual arts network for Wales. Each event will respond to VAGW's latest survey 'COVID-19 and visual arts in Wales' focusing on 3 major priorities highlighted by each region. These conversations will also enable VAGW to further understand what is taking place within each of the 3 regions.
We encourage participants to come prepared with regional and personal interests.
Have your say on what your region needs and wants from a visual arts network for Wales.
Themes: equity, fairness, policy, funding, etc.
"The events will be [facilitated / led] by Helga Henry and are designed to stimulate open dialogue and gather your thoughts and ideas about the visual arts sector in Wales and the future role of VAGW."
As a result of your attendance you will have:
Contributed to the development of the work of VAGW to support further your artistic practice or calling:
Consider a range of professional development initiatives that you could take now or that could be developed over time, with particular emphasis on developing artists and arts professionals who are ethnically and culturally diverse, and who experience racism in our society – in particular people of [African Caribbean heritage, South Asian heritage need to make that particular to the people we are ACTUALLY talking about in Wales]
Considered practical steps that VAGW could take to improve the cultural eco-system in Wales by further advocating and lobbying for the value of the contribution of the arts to the Welsh economy.
How to sign up
Each event welcomes a range of people from that region who are personally and/or professionally invested in the visual and applied arts in some capacity, i.e. independent artists/ makers/ technicians/ practitioners, arts workers employed within organisations.
All you need to do is email the following email address visualartsgroupwales@gmail.com info with your name, occupation, and indicate the region you work within.
If you have any access requirements such as a BSL interpreter, translation, live-captioning, etc please include this in your email.
Financial access support
There will be a financial access bursary made available to 9 individuals, 3 from each region, and will be awarded on a first come first serve basis. This bursary is intended to support financial access needs of people who receive Universal Credit, have been significantly affected by COVID-19 financially, who earn the national minimum wage, or may otherwise be unable to attend due to financial restraints.

When applying we ask you as open and honest as you feel comfortable with when briefly explaining why you would benefit from this bursary. The request will go to Rhys Bugler the Events Coordinator.