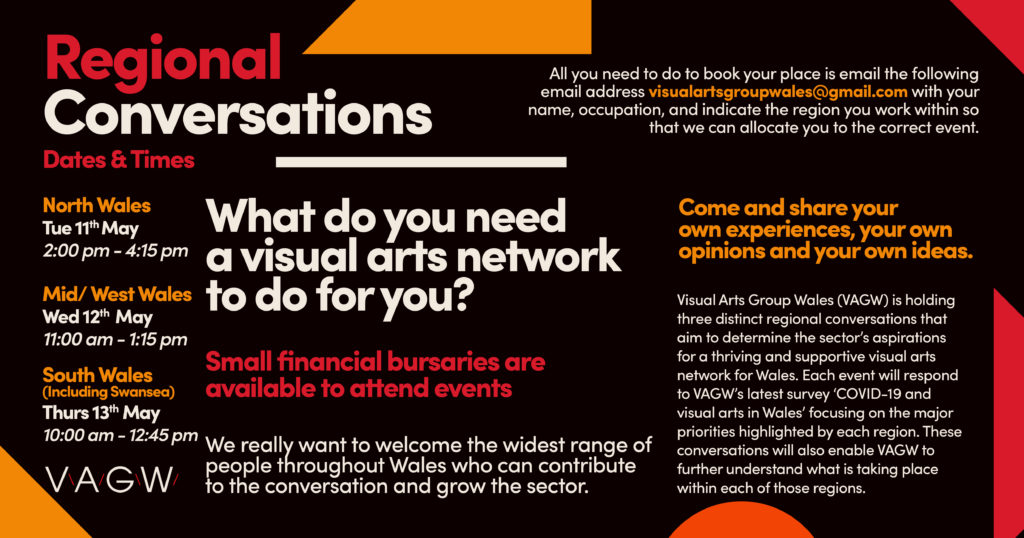 Hosted by: Helga Henry
Date & Times
North Wales Tuesday 11th May, 2:00 pm – 4:15pm
Mid/ West Wales Wednesday 12th May, 11:00 am – 1:15 pm
South Wales Thursday 13th May, 10:00 am – 12:45pm
These sessions take place on Zoom.
Event
What do we need for a vibrant visual arts sector and how will it support your work, artistic practice and interests?
In May, Visual Arts Group Wales (VAGW) is hosting three conversations exploring the conditions for a thriving and supportive visual arts network for Wales. We will focus on priorities highlighted by VAGW's 2020 survey 'COVID-19 and visual arts in Wales' and seek a deeper understanding of your current challenges, successes and issues.
We welcome anyone with a professional or personal interest in the visual and applied arts in Wales to join us including (but not limited to) independent artists/makers/technicians/practitioners/curators/producers, arts workers employed within organisations/hobbyists/early career, community groups and those with an active interest in visual arts. Come prepared with regional and personal interests and responses to the major priorities:
Supporting the practice and continued professional development of independent artists / makers / technicians / practitioners and arts workers employed within institutions / organisations from Black and Minority Ethnic communities
Supporting the continued professional development of independent artists / makers / technicians / practitioner
Influencing and advocating for the value of the visual arts in terms of policy and funding
VAGW 2020 survey results
Join in to :
Contribute to the development of the work of VAGW to support further your artistic practice, profession, or calling:
Tell us the challenges faced by visual arts communities and artist networks in your local area; eg lack of venues/ spaces, little resources, limited opportunities etc
Consider a range of professional development initiatives that you could take now or that could be developed over time, with particular emphasis on developing artists and arts professionals who are under-respresented in the visual arts ecology.
( VAGW is working to address under-representation of artists who are ethnically and culturally diverse, and who experience racism in our society – in particular people of African, Caribbean, Middle Eastern, East Asian, South Asian, Indigenous, Pacific Islander, Afro-Latinx heritage (to name a few) and people with a mixed heritage.
Consider the practical steps that VAGW could take to improve the cultural eco-system in Wales by further advocating and lobbying for the value of the visual and applied arts in Wales.
We, therefore, encourage participants to come prepared with ideas and proposals for how a visual arts network can support your artistic practice, profession, or calling.
Have your say on what your region needs and wants from a visual arts network for Wales.
Come and share your OWN experiences and your OWN opinions.
How to sign up
We really want to welcome the widest range of people throughout Wales who can contribute to the conversation and grow the sector.
We invite the widest range of people from each region who are personally and/or professionally invested in the visual and applied arts in some capacity, including (but not exclusively) independent visual artists/ makers/ technicians/ fabricators/ practitioners/ curators/ critical writers and academics/, and arts workers employed within organisations at all levels.
All you need to do to book your place is register your interest using the following link:
https://docs.google.com/forms/d/e/1FAIpQLSdDitHLWEnioE5QvQTeB-kReSFkbPMUkuMZZbWgtqvY4jPA6g/viewform
If you have any access requirements such as a BSL interpreter, Welsh language or other translation, live-captioning, etc please include this in your email. We will need to be informed about any access needs by Monday 12th of April, any less notice, and we may have difficulty ensuring your needs are met.
Financial access support
We know that we can only make VAGW truly representative if we acknowledge that some people have barriers to taking part because the time represents potential lost income.
As part of our commitment to full access, we have created a financial access bursary (made available to 9 individuals, 3 from each region)
Eligibility criteria
As this bursary is intended to support financial access, you will be able to apply if you:
a) receive Universal Credit; or
b) have been significantly affected financially by COVID-19; or
c) who earn the national minimum wage;
d) or may otherwise be unable to attend due to financial restraints.
How to apply for the bursary place
In order to apply for the bursary please email in merely requesting to be considered.
The bursary will be awarded to the first three people in each region who apply for it and who fit the eligibility criteria. The details of your bursary application will only be seen by Rhys Bugler the Events Co-ordinator who will make the awards in the order in which qualifying applications arrive. The information will not be shared with any third party and once the awards are made, the information will not be retained.
You will need to attend the session in order to claim the bursary.