INTERLUDE: Bursary and Mentoring Programme – bursary application now closed.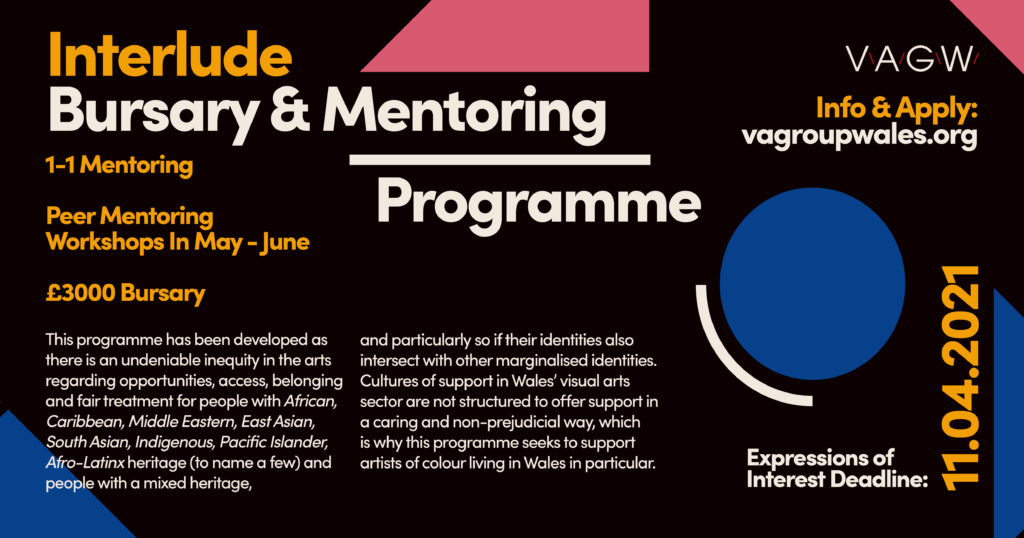 INTERLUDE, organised by Visual Arts Group Wales (VAGW) offers a mentoring programme consisting of four collective and peer-mentoring based workshops, an assigned mentor for one-to-one mentoring, and a bursary of £3000 – for five artists living or working in Wales, or with connection to Wales.
Who can apply
Artists of colour who have a connection to Wales, and are over 18 years old, can apply. If you do not consider yourself a visual artist but your practice crosses over with the visual arts, you can apply. Mentees may be at any stage of their practice / career / life: emerging or established, without higher education or a graduate, never been published/exhibited before or have had previous publications/exhibitions.
This programme has been developed as there is an undeniable inequity in the arts regarding opportunities, access, belonging and fair treatment for people with African, Caribbean, Middle Eastern, East Asian, South Asian, Indigenous, Pacific Islander, Afro-Latinx heritage (to name a few) and people with a mixed heritage, and particularly so if their identities also intersect with other marginalised identities. This can include physical disability, visual disability, being D/deaf, learning disability, neurodiversity; sexuality, being transgender, being genderqueer; being low-income, and being an asylum seeker or refugee. Cultures of support in Wales' visual arts sector are not structured to offer support in a caring and non-prejudicial way, which is why this programme seeks to support artists of colour living in Wales in particular.
Mentoring
The collective and peer-mentoring based workshops will be led by Mentor Coordinator Sadia Pineda Hameed (who is also an artist living in Wales). These four sessions will take place once a week over Zoom across May, and will encourage sharing practices and developing how we articulate them, understanding barriers to making work or progressing, and looking ahead to where we would like to be. The workshops will involve casual discussions and simple group tasks to build confidence and friendship, and the content can be shaped together with the mentees. The dates of these workshops will be decided amongst the 5 mentees to best fit their schedules.
The one-to-one mentoring will involve an individual conversation with Mentor Coordinator Sadia Pineda Hameed and another Wales-based curator/artistic director to really get to know each mentee, and what they need from a mentor. A mentor will then be chosen for the mentee. They will be an established creative in the relevant artform from the UK (or, with the advent of Zoom, international). The mentee and mentor will decide together how they would like to proceed, be it regular one-to-one Zoom sessions every 3 months or time for reading/watching work and providing feedback, focused mentoring on a particular major upcoming project or more broader practice and career development.
Bursary
A £3000 bursary will be awarded to each mentee to support their practice however they choose. The bursary will be paid at the beginning of the Mentoring programme, and recipients do not have to evidence how it is used.
Access Fund
There will be an access fund available for mentees throughout the programme, for use during the mentoring workshops and one-to-one mentorship – so mentees will not need to use their bursary for access requirements.
Mentees may either request an access tool for us to organise for them, such as a BSL interpreter, translation, live-captioning etc, or they may request to withdraw money from the access fund for reasons such as child care, time off work etc. When requesting to withdraw money from the access fund, mentees will not be asked to give a reason. Their requests will go through the Mentor Coordinator Sadia Pineda Hameed.
How to apply / the conversation
To select the 5 mentees, we would like to have conversations to better understand each individual's practice, stage, and next steps – to then select 5 people who we feel may benefit from this programme best.
People will not be 'assessed' on how established they are or the scale of their body of work. Rather, the 5 successful mentees will be chosen based on potential, and how beneficial a programme such as this would be to them. We understand that barriers may have prevented a very talented person from exhibiting, and vice versa previous exhibition history may not be reflective of a person's barriers or experience in their artform. This is why we would like to have conversations rather than read application forms. 
Expressions of Interest will not be assessed, they are simply to provide us with talking points for our conversation. We will then have a 15 minute conversation with every person that applies that is eligible via Zoom (or an alternative if this poses an accessibility challenge), and the conversation will be based on what has been provided in the Expression of Interest, most likely asking for elaboration on answers. Mentor coordinator Sadia Pineda Hameed and one Wales-based curator/artistic director will be leading the conversation.
This conversation seeks to benefit all people including those who turn out to be unsuccessful in gaining a place on the programme – it is a chance for curators and artistic directors across Wales' visual arts sector to meet and learn about artists that they haven't worked with before, and 'open the door' through extending direct contact details, offers of resources, information about opportunities and future one-to-one sessions for question answering or even mentorship / studio visits. The curator / artistic director involved in the conversation has committed to 'opening the door' to the artists they meet in a meaningful way, and have signed the VAGW Cultural Recovery Mentor Pledge.
We are hoping to speak with every eligible person that applies, however if we receive an unprecedented number of expressions of interest, we may have to shortlist based on the submitted forms. In this situation, those not shortlisted will still be offered a conversation / studio visit at some point to learn about their practices and extend support.
Key dates
Accepting expressions of interest between:
24th March 2021 – midnight 11th April 2021
Confirmation of eligibility and organising your conversation:
12th April 2021
Conversations take place:
15th – 23rd April 2021
Mentoring programme:
4 days across mid May – mid June 2021
Assistance / questions
If you require assistance with your expression of interest or have any questions, please contact Rachel Kinchin at visualartsgroupwales@gmail.com
Further information / elaboration
This section is not necessary to read in order to make an expression of interest, however, it is included for those seeking more information about this programme.
Who are VAGW…
VAGW (Visual Arts Group Wales) is the independent Professional Association for venues and organisations in Wales that produce and present contemporary visual arts. VAGW exists to strengthen the voice of the visual arts sector in Wales through co-operation, partnership, advocacy and training.
VAGW was established in the 1990s and currently has 22 member organisations comprising revenue-funded and project funded; with and without venues; and representing a variety of operating scales and geographic remits. It is currently an entirely voluntary membership organisation. It is currently an entirely voluntary membership organisation with a paid yearly membership fee.
How this programme was developed…
In 2019, VAGW undertook a series of consultation events to understand more about the needs of the visual arts sector in Wales, from which a list of strategic priorities for the sector's development for VAGW to consider was drawn up.
The outbreak of Covid disrupted VAGW's development process and in Summer 2020, Arts Council Wales enabled Arts Associate and Independent Consultant Mandy Fowler to work with VAGW to support the planning of VAGW's development process.
Recognising that the Covid pandemic was having an impact on the lives and work of artists and arts workers in the sector and that the growth of the Black Lives Matters movement had catalysed awareness of structural economic and social inequalities and injustices across society, including the cultural sector, a renewal of the 2019 strategic priorities was required. A time-sensitive visual arts sector survey was undertaken to gain a better understanding of the needs and priorities of the sector and the people involved in it, to help VAGW secure Cultural Recovery Funding to undertake a renewed development process. This funding is enabling VAGW to undertake an intense period of training, mentoring and professional development for people who are engaged in the sector, which is informing and taking place alongside strategic work to transform VAGW's business and membership model and delivery plans for the future. One of the top priorities from that survey was the recognition of the need to meet the professional development needs of artists of colour.
A paid advisory panel of practitioners of colour working in Wales and the UK has contributed to the overall structure and development of the programme; the advisory panel will continue to support the Mentor Coordinator and Mentee development.