Hosted by: Laura H Drane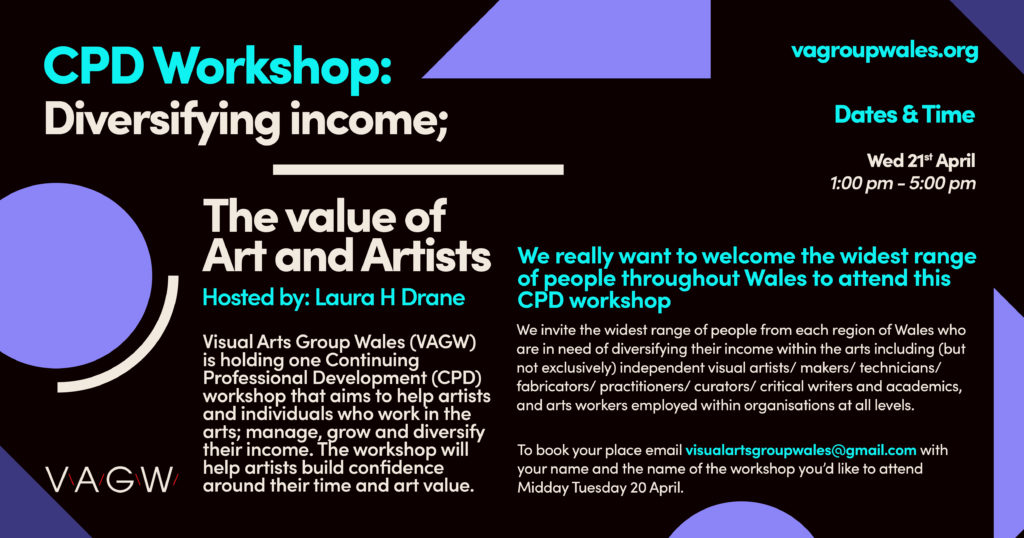 Date & Time
Wednesday 21st April 2021, 1:00 pm – 5:00 pm
These sessions take place on Zoom.
Event
Visual Arts Group Wales (VAGW) is holding one Continuing Professional Development (CPD) workshop that aims to help artists and individuals who work in the arts diversify their income. This event is a direct response to VAGW's latest survey 'COVID-19 and visual arts in Wales' focusing on one of the three major priorities identified. This workshop will allow individuals to feel more confident when thinking about diversifying income and how an artist's time is valued.
In attending this event you will be able to :
Understand basic budgeting; how to build one, key terms, and what to include in a budget.
Calculate expenditure figures – fair pay, etc
Understand the different funding options available to those in the arts sector – types and sources.
Confidently negotiate payment terms with institutions, venues, and individuals.
What do you need to earn? How much is your time worth?
This workshop is for those who are new to budgeting or those who want to brush up on their knowledge of what makes a great budget. Opportunity will be given for you to ask questions on all the areas covered during the workshop.
This is a 4 hour workshop that will include group discussions, group tasks, individual activities, and comfort breaks.
How to sign up
We really want to welcome the widest range of people throughout Wales to attend this CPD workshop
We invite the widest range of people from each region of Wales who are in need of diversifying their income within the arts including (but not exclusively) independent visual artists/ makers/ technicians/ fabricators/ practitioners/ curators/ critical writers and academics/, and arts workers employed within organisations at all levels.
To book your place fill in this google form by Midday Tuesday 20 April.
If you have any access requirements such as a BSL interpreter, Welsh language or other translation, live-captioning, etc please include this in your email. We will need to be informed about any access needs by Monday 16th of April; any less notice, and we may have difficulty ensuring your needs are met.